Onze klanten geven ons een:

De aluhal begint met een afmeting van 8 x 6 meter. Daarna is deze tent verlengbaar met segmenten van 3 meter.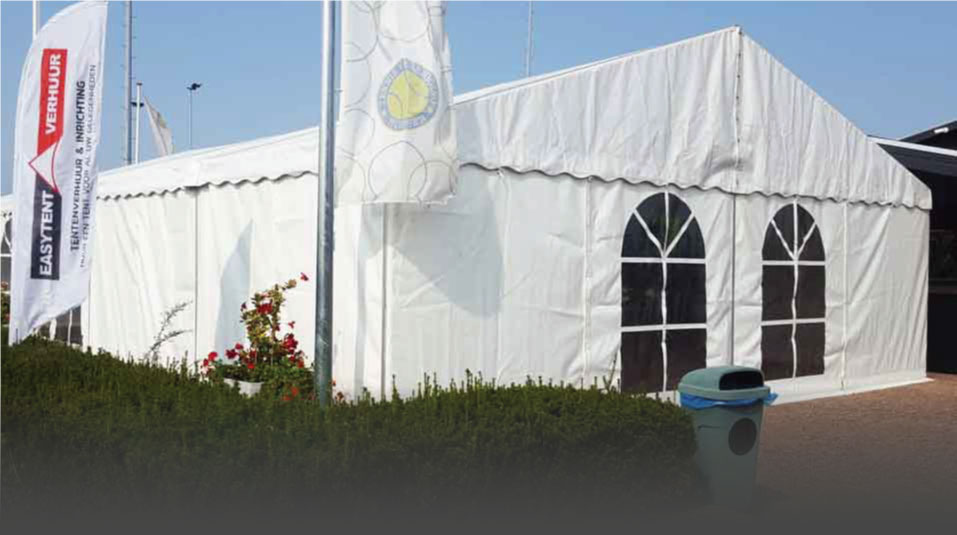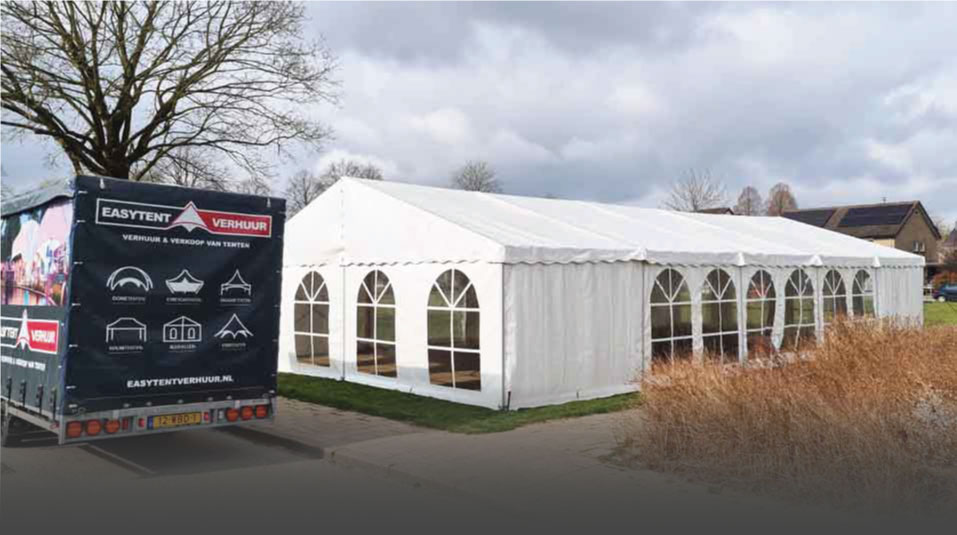 An aluminum tent is a suitable tent for various purposes, such as sporting events, meetings and more. This flexibly applicable tent turns your event into a big party! What makes an aluminum tent so handy is that there are no poles or obstacles in the tent, so you can make optimal use of the space. To rent an aluminum tent, call in Easy Tent Rental in Huissen.
Rent an aluminum tent in different sizes
How big should your tent be?
That's entirely up to you.
Because the aluminum tent consists of different segments, we can supply the tent in all kinds of sizes.
You can easily rent this type of tent for events and parties where you receive a lot of people.
You can choose from a width of four, six, eight or ten metres.
The length is up to you!
If you are looking for
a beautiful party tent
for your party, this tent is definitely a good option.
If you rent an aluminum tent from us, you can choose from
two types of floors
: decking floors or system floors.
You will also find other high-quality tents in our range, such as our
harmonica tents
.
Contact us for more information
Would you like to know more about renting an aluminum tent or do you have questions about the possibilities of
our tent rental
?
Then request
a quote
.
You can do this easily via
our contact form
.
If you have any questions, you can also ask them by phone.
You can reach us on
+31 (0) 481 712 303
.
You will receive tailor-made advice from us.
Volg ons ook op social media:
BTW Nummer
NL003927818B03
KvK Te Arnhem
KvK Nr: 84194219
Contactgegevens
Tel: 026-2001213
Ruud de Wilde
06-10445017
info@easytentverhuur.nl
Handelstraat 7
6851 EH Huissen
Contactgegevens
Tel: 026-2001213
Ruud de Wilde: 06-10445017
info@easytentverhuur.nl
BTW Nummer: NL003927818B03
KvK Te Arnhem KvK Nr: 84194219
Volg ons ook op social media